---
17th World Congress On Qigong-TaiChi-Traditional Chinese Medicine
17th World Congress On Qigong-TaiChi-Traditional Chinese Medicine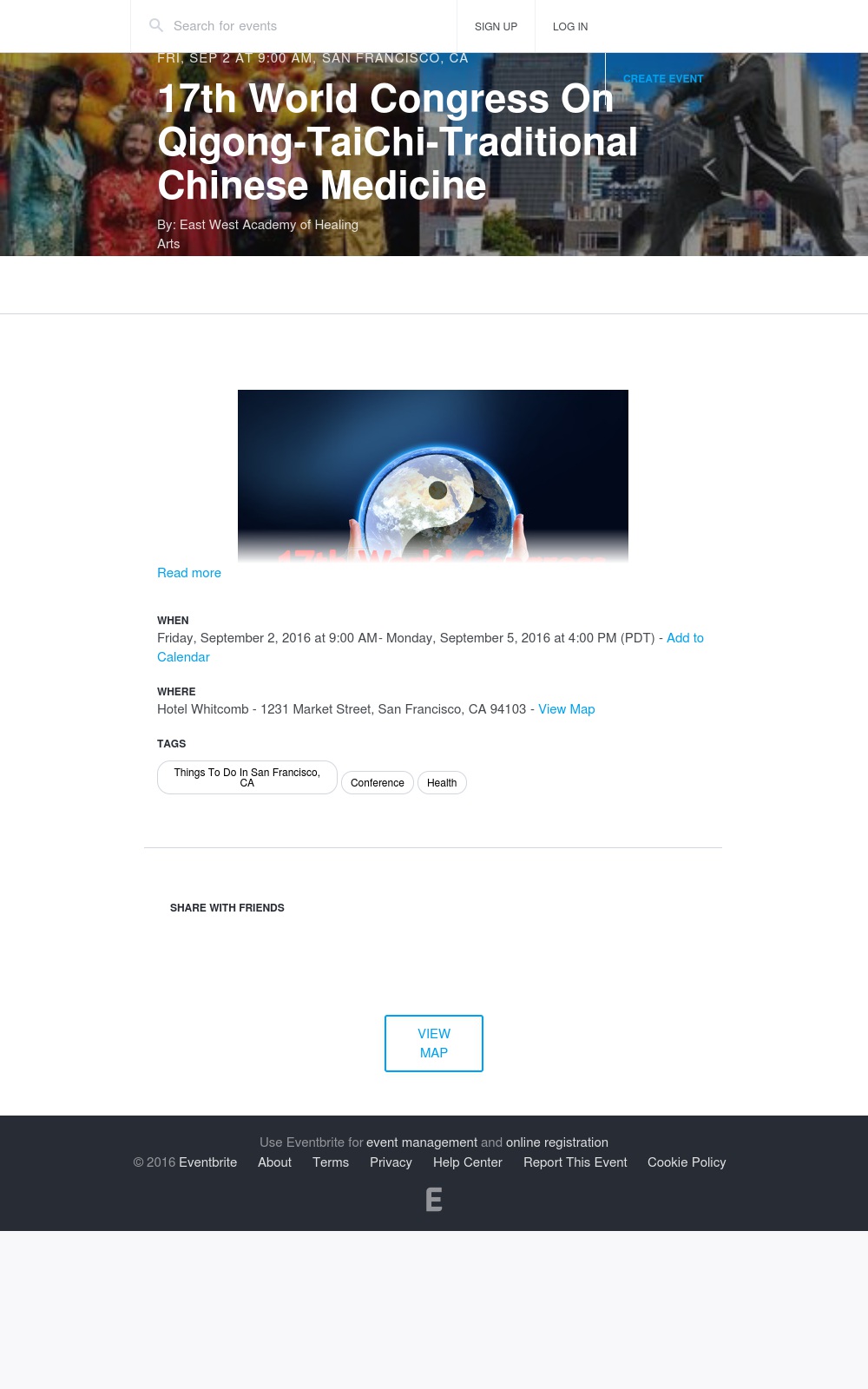 As we step into this new era, the need for Healing on every level - Self, Community and Planetary - is evident, yet the established institutional approaches are failing. Evident is the increased medical failures; cancer and heart conditions on the rise; climate change; air, water and food pollution; economic downturn; and social stressors in our everyday lives. The answers lie in us! We, as practitioners of Qigong, Tai Chi and TCM, are in a prime position to lead the way to a new paradigm of healing that encompasses body, mind, spirit and planetary healing by the channeling of life giving Qi with love, touch and compassion combined with new scientific research.
Echoing the global nature of today's healing and life demands, East West Academy of Healing Arts and co-sponsors will convene the 17th World Congress on Qigong/TaiChi/TCM, the 17th American Qigong Association Congress, the 17th World Qigong Federation Congress, in San Francisco, California, USA (September 2-5, 2016 ).
As you know this annual Congress draws collectively around 1000 attendees - esteemed faculty, practitioners, and the public transitional attendees, many of whom are eager to learn about Qigong/TaiChi/TCM and natural energy healing.
We look forward to providing you the unbelievable experience of your life!
Below are some sample cases from the Congress:
"My severe fibromyalgia of 10, 15, and 25 years of suffering was totally relieved at the Congress workshop…I learned what to do to relieve it should it begin to come back!" 3 Nurses from hospital and a nursing association. Vancouver and New York.
"My foggy head of 8 years had clarity for the first time!"  65 year senior. San Francisco
"My painful uterine tumor size of a grapefruit reduced to the size of a lemon and was pain-free within half an hour with directed healing Qi in the workshop session.  My Pediatrician husband, confirmed it."  Mary, NY.
"I was a veteran and a hospital administrator confined to wheelchair for 6 plus years from a stroke with dystonia and Chorea (uncontrollable tremors/shakes).  In the workshop with directed healing Qi, I got up, walked the room length and danced with the Qigong Grandmaster! I and everyone were crying with joy!"  Bill, California
"I am finally over my 14 year long grieving from the death my daughter…the things I learned here at the Congress immediately made me realize there is life after death…" from Arizona 
"I feel so relaxed and full of joy, it is wonderful!" from Toronto, Ontario
"My frozen left shoulder of two years and scheduled for surgery was relieved in 2 minutes! I never had to have surgery…Thank you"
Many more miracle-like self-healings always take place at every Congress!
Below is a letter from Bill Douglas, founder of World Tai Chi and Qigong Day which can give the multiple dimensions of "take-aways" (from science to learning hands-on healing, being healed, to dance and music and awards) depending upon individual's desire and goals. 
Whatever it is that your life wants, the Congress can begin your life-process at whatever level you are and move towards a longer vibrant loving life releasing all the natural born brilliance that is within each of us!
Early Bird Congress registration of $150 (50% Savings) by registering before August 25, 2016 (Friday evening 7pm to Sunday evening 6:00pm) (Thanks to a generious, anonymous donor). After registration is $300.
Limited number of scholarships available by emailing:
Location for the Congress and Host Hotel:  A block of specially priced $169/room have been reserved at The Hotel Whitcomb, A Historic Hotel of America. Please reserve by calling 415-487-4468 or emailing
[email protected]
(Special Rate Cut-Off Date: 8/26/2016) 
This turn of the century full service boutique hotel is conveniently located on Mid-Market area in downtown San Francisco , across from the landmark Orpheum Theater, close to trendy South of Market, Union Square, The Castro, City Hall, Moscone Center, cable cars and more. Easy transportation from San Francisco International Airport via BART is steps from Hotel Whitcomb. Public Transportation via MUNI is in front of hotel.
Added on August 24th, 2016
Last updated: September 3rd, 2016